Alameda Boatworks
A Commercial Residential Development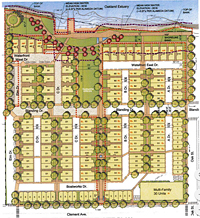 Alameda Boatworks is a proposed 9.48-acre residential development that includes 182 housing units and dedicated park space along the water's edge. It is located at 2229 Clement Street, just east of the Park Street bridge.
Francis Collins is the project developer. The site has been the focus of considerable controversy and a lawsuit between the developer and the City of Alameda. The City's 1991 General Plan referred to the site as Estuary Park, but an October 2010 General Plan revision deleted this reference. The project design includes a small public park area within the setback from the Estuary required by the Bay Conservation and Development Commission.

back to waterfront access map
More Information

Read Development Alert: New Boatworks plan released, January 12, 2015, The Alamedan

Read the updated project summary prepared for presentation to the Bay Conservation and Development Commission Design Review Board on 7/11/2016. View the detailed exhibits for this presentation, showing public access and design features.

Status
The project is in planning and permission stages.
Location & Sky View
Internet Explorer users: Do not click [+] to zoom in due to recent bug in Google Maps.
Drag, zoom:[+][-], switch from Satellite to Map or Earth view, explore...
Click the

marker for driving directions.

View boatworks in a larger map

back to waterfront access map