Alameda Landing
A Commercial Mixed-Use Development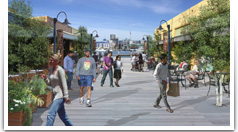 Alameda Landing is a 97-acre, mixed-use development with 300 units of single-family housing, office and retail space. Catellus is the master developer for the project.

back to waterfront access map
More Information

Visit the developer's website for the project.
Status
The project is on hold as of 2011. Plans are being revised to reflect current economic conditions.
Location & Sky View
Internet Explorer users: Do not click [+] to zoom in due to recent bug in Google Maps.
Drag, zoom:[+][-], switch from Satellite to Map or Earth view, explore...
Click the

marker for driving directions.

back to waterfront access map