Alameda Point
Potential Commercial Mixed-Use Development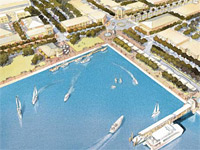 Alameda Point is the site of a potential major mixed-use project based on redevelopment of the Alameda Naval Air Station. A Bay Trail extension is planned around shoreline, connecting new parks.

back to waterfront access map
Status
SunCal Companies was selected as the master developer for the project. SunCal proposed a plan that depended on voters approving Measure B, which would have exempted the Point from Alameda restrictions on high-density housing. In the wake of Alameda voters' rejection of Measure B on February 4, 2010, the SunCal project's future was ended, and relations between the developer and City broke down. See press coverage.
In 2011, the City of Alameda is reviewing options for the future of the former Naval Air Station property. The City has engaged the firm of Perkins + Will to work with the community in a visioning and land-use planning process for the Point. View the scope of work and contract for this planning effort.

More Information

View Waterfront Action's page on the SunCal proposal

View press coverage of Alameda Point

Visit Alameda Point Info, an external web site covering the history and future of the site.

Read Over a Decade of Failure: Why Military Base Reuse at the Naval Air Station, Alameda (Alameda Point) Has Been Unsuccessful, a Public Policy Master's Thesis for California Polytechnic State University, San Luis Obispo.
Location & Sky View
Internet Explorer users: Do not click [+] to zoom in due to recent bug in Google Maps.
Drag, zoom:[+][-], switch from Satellite to Map or Earth view, explore...
Click the

marker for driving directions.

back to waterfront access map