12th St. Reconstruction
A Measure DD Project



Project Description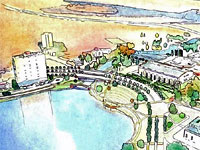 12th Street has been redesigned into a tree-lined boulevard with signalized intersections and crosswalks and a landscaped median. The redesign creates significant new parkland at the south end of Lake Merritt Park, removes unsafe and unsightly pedestrian tunnels, provides safer and continuous access for pedestrians and bicyclists along the perimeter of Lake Merritt, and improves access between the Kaiser Convention Center and Laney College. Removal of the Lake Merritt Channel culvert at 12th Street provided an open-water bridged connection and improve water flow between the Lake and the Estuary. Environmental benefits include improved water quality and wildlife habitat.

back
More Information

View the City of Oakland 1/29/2014 Project Report, with description, images, plans, funding detail, and status.


View the City of Oakland illustrative plan for the project.


Visit the City of Oakland Lake Merritt 12th St. Projects page

View photos of 12th St. reconstruction progress on Oakland 12th Street Project blog

Read Measure DD and Lake Merritt Boulevard, a brief history of this project that was published in the East Bay Express June 9, 2013 Love Our Lake Day event guide.


Read Coalition of Advocates for Lake Merritt (CALM) and the History of Measure DD: The Creation of Lake Merritt Boulevard a history of the community vision and events chronicled in the photos below:


View historic photos and events that led to the current reconstruction project in How a Community Turned a Bishop's Mitre into Two Bridges and a Park, from the Oakland Heritage Alliance and the Coalition of Advocates for Lake Merritt, with additional photo credits to Erik Niemann. (

, large file)

Press:


Oakland celebrates Lake Merritt revival June 10, 2013, San Francisco Chronicle


Thousands flock to Lake Merritt to celebrate the Oakland park June 9, 2013 San Jose Mercury News


Love Our Lake Celebration Draws Big Crowd To Oakland June 9, 2013 KPIX CBS Television


Lake Merritt's gateway to bay reopened February 22, 2013, San Francisco Chronicle


Oakland Mayor Quan officially opens Lake Merritt estuary channel February 22, 2013, San Francisco Business Times


Tree planting starts at huge Lake Merritt dam project October 18, 2012, San Francisco Business Times


Cleaning Up: Recent improvements are giving Oakland's residents cleaner waterways Summer, 2011, Energy & Infrastructure


Demolition Project Should Reduce Odor from Lake Merritt, June 14, 2011, Bay Citizen.


After Long Wait, Lake Merritt Restoration Takes Shape June 9, 2011, Wall Street Journal wsj.com San Francisco Bay Area edition


Major changes coming to part of Lake Merritt, April 19, 2011, KGO Assignment 7


Oakland project restoring Lake Merritt's sparkle September 16, 2010, San Francisco Chronicle


Lake Merritt Is Set to Get Prettier May 7, 2010, NBCbayarea.com Local News


Oakland breaks ground on $32M Lake Merritt fix May 6, 2010, San Francisco Business Times


Demise of the World's Shortest Freeway - Groundbreaking Ceremony May 6, 2010, East Bay Bicycle Coalition blog


Oakland awards McGuire & Hester $32M contract for Lake Merritt fix March 4, 2010,
San Francisco Business Timesl


Bidding to start for Oakland's 12th Street Dam rebuild October 8, 2009,
San Francisco Business Times
Status
Funding
Development. Measure DD bonds: $32 million
Federal Highway Bridge Program: $13.8 million
State Proposition 1B: $1.1 million
California Coastal Conservancy: $8 milliion
Proposition 40 Urban Stormwater $30,000
Additional contributions from California Wildlife Conservation Board
Maintenance. The project will be maintained the City of Oakland with funds provided by the Landscaping and Lighting Assessment District.
Location & Sky View
Internet Explorer users: Do not click [+] to zoom in due to recent bug in Google Maps.
Drag, zoom:[+][-], switch from Satellite to Map or Earth view, explore...
Click the

marker for driving directions.

back