Bay Trail Segment: Alameda Avenue
A Measure DD Project



Project Description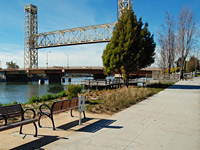 This project connected a shoreline segment of the Bay Trail that extends southeast of the Fruitvale Bridge along Alameda Avenue. It included the installation of 800 feet of standard concrete trail along with landscaping, signage and trail markers. The trail connects to the nearby Fruitvale Bridge Park, a pier jutting near the bridge.

The project closed a .16 mile Bay Trail gap.

back
More Information

Visit the City of Oakland Project Layout Plan Segment 1, Segment 2.

Status
Funding
Development. Measure DD bonds: $200,000.
Maintenance. The project will be maintained the City of Oakland with funds provided by the Landscaping and Lighting Assessment District.
Location & Sky View
Internet Explorer users: Do not click [+] to zoom in due to recent bug in Google Maps.
Drag, zoom:[+][-], switch from Satellite to Map or Earth view, explore...
Click the

marker for driving directions.

back