Restoration of Lake Merritt Municipal Boathouse
A Measure DD Project



Project Description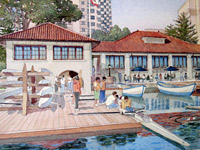 This project restored the Municipal Boathouse to its original condition with a new program to accommodate public uses (such as boating, a restaurant and a meeting hall) rather than City offices. Public access to the dock was improved, the arches were reopened to allow for boat storage, landscape and irrigation was improved, and the parking lot was redesigned to improve shoreline circulation. The building design is environmentally-friendly "LEED" certified.

back
More Information

View the City of Oakland 1/29/2014 Project Report, with description, images, plans, funding detail, and status.


Visit the City of Oakland Lake Merritt Boathouse Project web page for plans, before and after views, fact sheets, and news releases.

Historic photograph of the Municipal Boathouse

Visit the City of Oakland Lake Merritt Master Plan page
Status
Construction on the building renovation began in October 2006, and the building shell was essentially complete in 2008. The restaurant is now open, and the city has completed the adjacent park and street improvements.
Funding
Development. Measure DD bonds: $16.2 million. Rotary Club grant: $100,000
Maintenance. The project will be maintained the City of Oakland with funds provided by the Landscaping and Lighting Assessment District.
Location & Sky View
Drag, zoom:[+][-], switch from Satellite to Map or Earth view, explore...
Click the

marker for driving directions.

back