Crowley Site at Brooklyn Basin: Shoreline Enhancements
A Measure DD Project



Project Description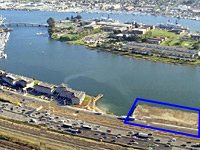 One of the few vacant sites along the waterfront, the Crowley Site at Brooklyn Basin (site outlined in blue) provides an opportunity for a visual connection to the water from the freeway and adjacent neighborhoods. It also offers an opportunity for limited commercial development combined with shoreline access.

The project will close a .1 mile Bay Trail gap.

back
More Information

Visit Waterfront Action's page on the Embarcadero area shoreline for an overview of this region.
Status
Project on hold, awaiting East Bay Regional Park District plan and request for possible funding from DD for them to implement the trail.
Funding
Development. Measure DD bonds: $3.3 million.
Maintenance. The project will be maintained the City of Oakland with funds provided by the Landscaping and Lighting Assessment District.
Location & Sky View
Internet Explorer users: Do not click [+] to zoom in due to recent bug in Google Maps.
Drag, zoom:[+][-], switch from Satellite to Map or Earth view, explore...
Click the

marker for driving directions.

back