Cleveland Cascade Renovation
A Measure DD Project



Project Description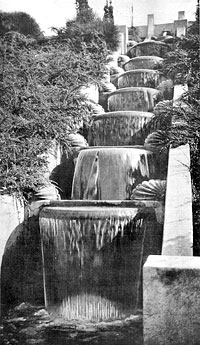 The Cleveland Cascade is an historic hillside park and fountain located on the shore of Lake Merritt. Its most prominent feature was a fountain with a cascading series of pools along side a stairway reaching from the Cleveland Heights district above to Lakeshore Avenue below. The Cascade dates from the 1920s but its dramatic fountain fell into disuse in the 1950s.
The Measure DD renovation project includes the historic stairway, lighting, railings, and related concrete work. Restoration of the fountain itself may be undertaken if a maintenance endowment can be arranged.
Measure DD has worked in partnership with local volunteer efforts, which have spearheaded the project.

back
More Information

Visit the Friends of the Cleveland Cascade web site.

View photos of the completed railing and stairway project.

Status
Funding
Development. Measure DD bonds: $300,000.
Maintenance. The park area will be maintained the City of Oakland with funds provided by the Landscaping and Lighting Assessment District. The fountain, if restored, will be maintained by funds from a special endowment.
Location & Sky View
Drag, zoom:[+][-], switch from Satellite to Map or Earth view, explore...
Click the

marker for driving directions.

View dd-cascade in a larger map

back