Creek Restorations and Watershed Acquisitions
A Measure DD Project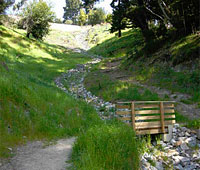 Project Description
With Measure DD's focus on water quality, projects have included restoration of selected Oakland creeks and acquisition of critical watersheds. Locations are detailed below.

back

More Information

View the City of Oakland 1/29/2014 Project Report, with description, images, plans, funding detail, and status for selected creeks.


Visit the City's Oakland Creeks Watershed Improvement Program web page

View a sample illustrative plan for a creek restoration project

View the prioritized list of Creek Restoration and Watershed Preservation and Acquisition projects adopted by City Council 12/20/2005

Status

= complete

Claremont Creek tributary restoration at Garber Park


Temescal Creek restoration near Rockridge Greenbelt


Creek native plantings of Shepherd Creek at Escher Drive


Shepherd Creek restoration at Shepherd Canyon Park


Watershed acquisition in Beaconsfield Canyon


Sausal Creek restoration at Dimond Park (2014)


Cinderella Creek restoration in Joaquin Miller Park


Watershed acquisitions in Butters Canyon


Peralta Creek restoration in Butters Canyon


Lion Creek Restoration at Lion Creek Crossings


Arroyo Viejo Creek restoration at Oakland Zoo


62 Acre watershed acquisition in Near Dunsmuir House

Funding
Development. Measure DD bonds: $5.5 million for restoration, $4.5 million for watershed acquisition.
Acquisition and restoration grants from:
California State Parks Habitat Conservation Fund Grant
Union Pacific Railroad mitigation funding
Oakland Army Base mitigation funding
Alameda County Flood Control & Vvater Conservation District
State of California River Parkways Grant
Department of Water Resources Integrated Regional Water Management Plan Grant
East Bay Regional Park District
Maintenance. The project will be maintained the City of Oakland with funds provided by the Landscaping and Lighting Assessment District.
Location & Sky View
Drag, zoom:[+][-], switch from Satellite to Map or Ter or Earth view, explore...
Click the

marker for creek or watershed status.

View dd-creeks in a larger map

back