Cryer Boatworks Site Extension of Union Point Park
A Measure DD Project



Project Description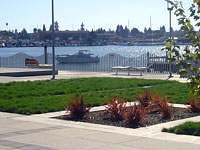 The former Cryer Boatworks site includes a barn-like building and a pier, on a 2-acre site. Improvements are considered a second phase of the adjacent Union Point Park, and include a 450 foot connection of the Waterfront Trail, a park area, and parking. Beach restoration, pier replacement, and converting the building for community use are possible future projects if additional funds can be raised.

The project closed a .08 mile Bay Trail gap.

back
More Information

View the City of Oakland 1/29/2014 Project Report, with description, images, plans, funding detail, and status.


Visit the City of Oakland Cryer Design Drawings
Status
Extensive Fire Damage. The historic Cryer Boatworks building on this completed Measure DD project site was destroyed by fire on November 13, 2020.
Funding
Development. Project cost: $2.5 million, including:
Measure DD bonds
Measure K, Oakland Open Space & Park Development Bonds: $864,000
California Recreational Trail Program grant: $600,000
California Costal Conservancy Bay Trail Program grant: $200,000
Maintenance. The project will be maintained the City of Oakland with funds provided by the Landscaping and Lighting Assessment District.
Location & Sky View
Drag, zoom:[+][-], switch from Satellite to Map or Earth view, explore...
Click the

marker for driving directions.

back