Cryer Boatworks Site Extension of Union Point Park
A Measure DD Project



Project Description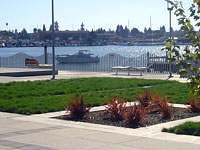 The former Cryer Boatworks site includes a barn-like building and a pier, on a 2-acre site. Improvements are considered a second phase of the adjacent Union Point Park, and include a 450 foot connection of the Waterfront Trail, a park area, and parking. Beach restoration, pier replacement, and converting the building for community use are possible future projects if additional funds can be raised.
The project closed a .08 mile Bay Trail gap.

back
More Information

Visit the City of Oakland Cryer Design Drawings
Status
| | |
| --- | --- |
| Design | |
| Bid | |
| Construction | (site is open) |
Funding
Development. Measure DD bonds: $2.5 million.
Maintenance. The project will be maintained the City of Oakland with funds provided by the Landscaping and Lighting Assessment District.
Location & Sky View
Drag, zoom:[+][-], switch from Satellite to Map or Earth view, explore...
Click the

marker for driving directions.

back