Derby and Lancaster Pocket Parks
A Measure DD Project



Project Description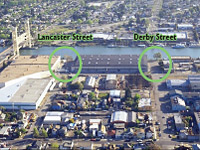 There are two streets between Park Street Bridge and Fruitvale Bridge that terminate at the waterfront - Derby Avenue and Lancaster Streets. These streets are ideal locations for mini-plazas, providing observation areas along the waterfront. The trail between them runs behind the Oakland Museum Women's Board warehouse. The project included a terraced shoreline, signage, and a historical interpretive marker.

The project closed a .1 mile Bay Trail gap.

back
More Information

View the City of Oakland 1/29/2014 Project Report, with description, images, plans, funding detail, and status.


Visit the City of Oakland Project Design Document.


View before / after photos.
Status
Funding
Development. Measure DD bonds: $729,000.
California Recreational Trail Program grant: $746,000
California Coastal Conservancy Bay Trail Program grant: $200,000
Congestion Mitigation & Air Improvement Program grant: $900,000
Bay Area Air Quality Management District grant: $125,000
Maintenance. The project will be maintained the City of Oakland with funds provided by the Landscaping and Lighting Assessment District.
Location & Sky View
Drag, zoom:[+][-], switch from Satellite to Map or Earth view, explore...
Click the

marker for driving directions.

back