East Oakland Aquatic Sports and Recreation Facility
A Measure DD Project



Project Description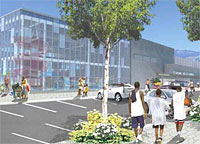 The long-range plan is to construct a 150,000 square foot facility at Ira Jinkins Park, in East Oakland. The complex would include an indoor pool, outdoor pool, gymnasium, and soccer fields. The first phase project, partly funded by Measure DD, consists of 22,500 square feet of building space, with an indoor pool, locker rooms and restrooms, meeting rooms, an aerobics/dance studio, a learning center, and a fitness center.

back
More Information

View the City of Oakland 1/29/2014 Project Report, with description, images, plans, funding detail, and status.


Visit the City of Oakland Measure DD Youth and Public Recreation Facilities page.

View photos of completed facility:
Photographs courtesy of David Wakely Photography.
Exterior:

Interior:

Press:


2012 Facility of Merit Winner: East Oakland Sports Center October 19, 2012, Athletic Business Newswire


East Oakland Sports Center a spark of life November 2, 2011, San Francisco Chronicle


Recreational facility for low-income area of CA, East Oakland Sports Center, completes October 12, 2011, World Architecture News


New East Oakland Sports Center Opens to the Public July 1, 2011, Oakland North blog
Status- Phase 1
The project is substantially complete. Minor enhancements beyond the original specifications are in progress.
Funding
Development. Measure DD bonds: $10.5 million;
State of California Prop 40 Urban Parks grant: $3 million;
East Bay Regional Parks Measure WW: $6 million;
City Redvelopment Agency funds: $2 million
Maintenance. The project will be maintained the City of Oakland.
Location & Sky View
Drag, zoom:[+][-], switch from Satellite to Map or Earth view, explore...
Click the

marker for driving directions to the East Oakland Aquatic Sports and Recreation Facility at 9175 Edes Ave. Oakland, CA 94621.

View dd-east_sports in a larger map

back