Children's Fairyland Renovation
A Measure DD Project



Project Description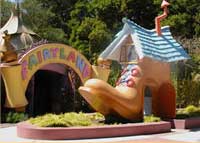 Children's Fairyland, in Lakeside Park, has received significant improvements funded by Measure DD, including:


a new Children's Community Theater;


a new addition for the Puppet Theater;


Fairy Music Farm;


utility infrastructure improvements;


set renovations.

back
More Information

View the City of Oakland 1/29/2014 Project Report, with description, images, plans, funding detail, and status.


Visit the Children's Fairyland web site.
Status
The project is complete, and grand openings were held in 2008.
Funding
Development. Measure DD bonds: $2.8 million.
Location & Sky View
Drag, zoom:[+][-], switch from Satellite to Map or Earth view, explore...
Click the

marker for driving directions.

View dd-fairyland in a larger map

back