Lake Merritt Trail Improvements
A Measure DD Project



Project Description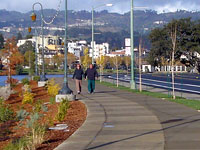 This project will widen greenways and trails around lake, provide bike paths on Lakeshore and Lakeside Avenues, improve Eastlake Park pedestrian safety, increase park space, and reconfigure the El Embarcadero roadway.

back
More Information

View the City of Oakland 1/29/2014 Project Report, with description, images, plans, funding detail, and status.


Visit the City of Oakland Lake Merritt Master Plan page
Status
Construction was delayed for a time by citizen lawsuit about tree removal but was completed in 2010.
Funding
Development. Measure DD bonds: $7.7 million.
Bay Area Air Quality Management Grant: $350,000
State of California State Parks and Recreation Grant $254,000
Maintenance. The project will be maintained the City of Oakland with funds provided by the Landscaping and Lighting Assessment District.
Location & Sky View
Drag, zoom:[+][-], switch from Satellite to Map or Earth view, explore...

back