Lake Merritt Water Quality Improvements
A Measure DD Project



Project Description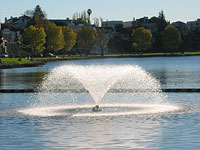 With its focus on water quality, Measure DD provides a number of projects to upgrade the water quality, safety, and infrastructure of Lake Merritt. Many are not easily seen by the visiting citizen, but all are critical to the health of the lake. The projects include storm drain filters, wildlife waste management elements, trash barriers, aeration fountains, inlet filters, etc.

back
More Information

View the City of Oakland 1/29/2014 Project Report, with description, images, plans, funding detail, and status.


Visit the City of Oakland Lake Merritt Water Quality Projects page.

Visit the City of Oakland Lake Merritt Master Plan page
Status
Funding
Development. Measure DD bonds: $4.5 million.
California Coastal Conservancy grant: $1 million.
Maintenance. The project will be maintained the City of Oakland with funds provided by the Landscaping and Lighting Assessment District.
Location & Sky View
Drag, zoom:[+][-], switch from Satellite to Map or Earth view, explore...
Click the

marker for driving directions.

back