Bay Trail Segment: Livingston Pier
A Measure DD Project



Project Description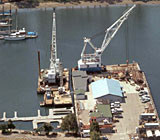 The long-range vision for this project includes use of the pier as a way-station or side trip off of the Bay Trail, with possible recreational use of the building located there. However, the pier is owned by the Port of Oakland and is leased to a marine contractor. Until the lease ends and the tennant relocates, a short section of Bay Trail will be installed across the pier entry to connect to existing trail on either side.
The Livingston pier is an historic concrete-reinforced structure, completed in 1912 as part of a bond-funded port improvement project.

The project will close a 150 foot Bay Trail gap.

back
More Information

Read excerpt from Central Estuary Plan Existing Conditions chapter.


View aerial view of proposed Bay Trail alignment at Livingston Pier
Status
Complete.
Funding
Development. Measure DD bonds: $200,000.
Maintenance. As Port of Oakland property, the trail will be maintained by the Port or its tenant.
Location & Sky View
Internet Explorer users: Do not click [+] to zoom in due to recent bug in Google Maps.
Drag, zoom:[+][-], switch from Satellite to Map or Earth view, explore...
Click the

marker for driving directions.

View dd-livingston in a larger map

back