Restoration of Lake Merritt Pergola & Colonade
A Measure DD Project



Project Description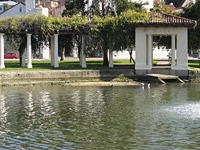 The historic pergola and colonnade located at the El Embarcadero arm of the Lake required structural repair, waterproofing, electrical and seismic improvements, and pedestrian access enhancements .

back
More Information

View the City of Oakland 1/29/2014 Project Report, with description, images, plans, funding detail, and status.


Visit the City of Oakland Lake Merritt Lakeshore Avenue / El Embarcadero Projects and Information Page.

Visit the City of Oakland Lake Merritt Master Plan page
Status
Funding
Development. Measure DD bonds: $431,315.
Maintenance. The project will be maintained the City of Oakland with funds provided by the Landscaping and Lighting Assessment District.
Location & Sky View
Drag, zoom:[+][-], switch from Satellite to Map or Earth view, explore...
Click the

marker for driving directions.

back