Restoration of Lakeside Park Sailboat House
A Measure DD Project



Project Description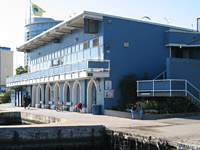 Phase 1: The initial project includes renovation of the balcony and railings of the Lake Merritt Sailboat House as well as shoreline improvements near the parking lot and landscaping.

back
More Information

Visit the City of Oakland Lake Merritt Park Projects Page.

Visit the City of Oakland Lake Merritt Master Plan page
Status
Phase 2: A second project, involving revisions to the shoreline, parking, and hardscape, is in the early planning stages.
Funding
Development. Measure DD bonds: $181,000.
Maintenance. The project will be maintained the City of Oakland with funds provided by the Landscaping and Lighting Assessment District.
Location & Sky View
Drag, zoom:[+][-], switch from Satellite to Map or Earth view, explore...
Click the

marker for driving directions.

back