Lakeside Green Streets Project
(Snow Park and 20th St./Harrison St. improvement)
A Measure DD Project



Project Description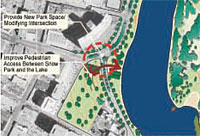 This project will reconfigure the intersection of Lakeside, 20th, and Harrison to calm traffic, create safer pedestrian crossings, add bike lanes, increase park space and improve connections between Snow Park and Lake Merritt. This reconfiguration is called for in the Lake Merritt Master Plan.

back
More Information

View the City of Oakland 1/29/2014 Project Report, with description, images, plans, funding detail, and status.


Visit the City of Oakland Snow Park / 20th St./ Harrison Project page: Concept plans, before and after illustrations of design.

Visit the City of Oakland Lake Merritt Master Plan page.
Status
The project is substantially complete.
Funding
Development. Measure DD bonds: $4.4 million.
Alameda County Transportation Commission grant: $8.8 million.
Federal Surface Transportation Program grant: $800,000
Maintenance. The project will be maintained the City of Oakland with funds provided by the Landscaping and Lighting Assessment District.
Location & Sky View
Internet Explorer users: Do not click [+] to zoom in due to recent bug in Google Maps.
Drag, zoom:[+][-], switch from Satellite to Map or Earth view, explore...
Click the

marker for driving directions.

View dd-Snow/20th/Harrison in a larger map

back