Studio One Arts Center Renovation
A Measure DD Project



Project Description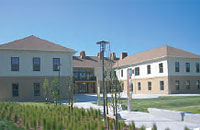 Measure DD renovated and upgraded this 1894 building to address mandatory building codes, life-safety issues and deferred maintenance. The project provided enhanced facilities for community art programs and classes, including painting, drawing, sculpture, ceramics, photography, and other arts.

back
More Information

Visit the City of Oakland Measure DD Youth and Public Recreation Facilities page.

Visit the City of Oakland Parks and Recreation Studio One web page.
Status
The project is complete, and the grand opening was held May 29, 2009.
Funding
Development. Measure DD bonds: $10 million.
Maintenance. The project will be maintained the City of Oakland.
Location & Sky View
Drag, zoom:[+][-], switch from Satellite to Map or Earth view, explore...
Click the

marker for driving directions to Studio One
at 365 45th Street Oakland, CA 94609.

View dd-Studio_One in a larger map

back