66th Avenue Gateway Dedication Ceremony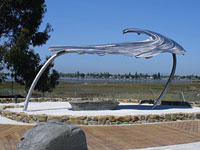 On May 28, 2008, the 66th Avenue Gateway sculpture park was dedicated in a ceremony attended by public officials, project contributors, and interested citizens.

Click thumbnails for larger view:


Pacific Current viewing shelter

The Bay Trail runs through the park and is shown here
approaching the Gateway from the south.


Sculpture examples:
Core Sample & Clapper Rail

Beautiful hardwood pathways invite visitors to the

shoreline edge, with views of marshlands, water birds,

San Leandro Bay, Alameda and Bay Farm Island.