Embarcadero Shoreline Parks and Trails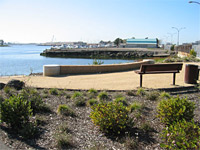 There are many superb opportunities for public waterfront access hidden along the Embarcadero in a strip stretching from the 9th Avenue Terminal to Embarcadero Cove. Here, a series of intermittent shoreline paths links pocket parks, piers, marinas, restaurants and various businesses. The paths, which are part of the Bay Trail, offer views of the estuary, marinas, and Coast Guard Island. There are occasional interruptions in the shoreline path, but the route continues along the Embarcadero in these areas.

back to waterfront access map
More Information

Visit our detailed page on the Embarcadero Shoreline, which describes shoreline access opportunities and presents many pictures.
Status

Open and evolving. Measure DD will provide for additional Bay Trail linkages in this area.
Funding
Development. The parks and trails were funded in part by private waterfront developers as they met obligations imposed by the Bay Conservation and Development Commission. Trail improvements will be funded by Measure DD using part of $19.3 million allocated for Bay Trail connections.
Maintenance. The mini-parks along this shoreline are maintained by the City of Oakland with funds provided by the Landscaping and Lighting Assessment District.
Location & Sky View
Drag, zoom:[+][-], switch from Satellite to Map or Earth view, explore...
Click the

marker for driving directions.

back to waterfront access map