Encinal Boat Ramp Park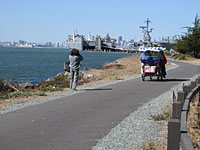 This park is relatively undeveloped but appealing because it offers access to a newly opened Bay Trail segment with stunning views of Alameda and San Francisco. Stroll the shoreline from the park to the Hornet. Amenities include picnic benches, restrooms, and easy parking.

back to waterfront access map
Status

Open to the public.
Funding
The park and boat ramp are operated by the City of Alameda. The trail is maintained byh East Bay Regional Parks.
Location & Sky View
Internet Explorer users: Do not click [+] to zoom in due to recent bug in Google Maps.
Drag, zoom:[+][-], switch from Satellite to Map or Earth view, explore...
Follow the red Bay Trail segment toward the aircraft carrier Hornet .
Click the

marker for driving directions.

back to waterfront access map