Estuary Park
A Measure DD Project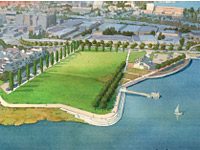 Current Park. In the past, this 7-acre waterfront park was largely hidden from public view by the adjoining Cash and Carry warehouse that was recently demolished. The park incorporates the Jack London Aquatic Center, a community facility providing youth and adult programs in rowing. It also includes a popular grassy field, a public boat launching ramp and a group picnic area.
Measure DD plans call for renovation and expansion of the park. Plans include reshaping the shoreline, providing improved access along the water's edge, and redesigning parking to provide for additional landscape areas and a green edge. The graphic above illustrates the design concepts.

The Bay Trail runs through the site and will be improved as part of the project.

back
More Information

Visit our detailed page Estuary Park for additional pictures and descriptions of current park facilities.
Status

The park is open and in use.
Measure DD plans call for renovation and expansion. The Measure DD project is on hold pending site cleanup, scheduled for 2012, and progress of the adjacent Brooklyn Basin Project at Oak to 9th development.
Funding
Existing park developed by the City of Oakland and maintained with funds provided by the Oakland Landscaping and Lighting Assessment District.
Planned park improvements funded by Measure DD bonds: $18 million.
Park Reservations
Contact Oakland Parks and Recreation for reservations at (510) 238-3187. Waterfront Action cannot make reservations for you.
Location & Sky View
Internet Explorer users: Do not click [+] to zoom in due to recent bug in Google Maps.
Drag, zoom:[+][-], switch from Satellite to Map or Earth view, explore...
Click the

marker for driving directions.

back