Gateway Park - the Judge John Sutter Regional Shoreline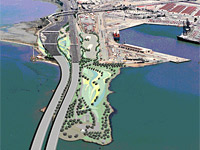 Located at the foot of the new east span of the Bay Bridge on former Oakland Army Base land, this shoreline park is being developed as a gateway to the East Bay.
Featuring spectacular shoreline views of San Francisco from its 600-foot observation pier, the park serves as the jumping-off point for the Bay Trail to join the Bay Bridge bike path to Treasure Island. The park site is also the location where the East Bay's historic Key System trolley line met the San Francisco ferries to cross the bay. Interpretive park features commemorate this transportation node, including the history of the old and new Bay Bridges.
The park is named for John Sutter, the retired East Bay civic and environmental leader who spearheaded its development. For decades, Judge Sutter has been instrumental in obtaining and preserving public access to the bay shoreline.

back to waterfront access map
More Information

Visit the East Bay Regional Parks web page for the Judge John Sutter Regional Shoreline.

Status
The park opened in October of 2020. Park development is expected to continue.
Planning was organized by the Gateway Park Working Group, a consortium of nine agencies, including the Bay Area Toll Authority (BATA), Caltrans, Bay Conservation and Development Commission (BCDC), California Transportation Commission (CTC), East Bay Regional Park District (EBRPD), City of Oakland, Port of Oakland, East Bay Municipal Utility District (EBMUD) and Association of Bay Area Governments' (ABAG's) Bay Trail Project.
Location & Sky View
Internet Explorer users: Do not click [+] to zoom in due to recent bug in Google Maps.
Drag, zoom:[+][-], switch from Satellite to Map or Earth view, explore...
Click the

marker for driving directions.

back to waterfront access map