Gateway Park
An East Bay Park in Development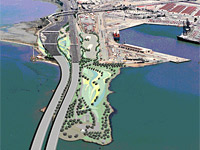 Located at the foot of the new east span of the Bay Bridge on former Oakland Army Base land, this shoreline park is being planned as a green gateway to the east bay. Featuring spectacular shoreline views of San Francisco, the park will be the jumping-off point for the Bay Trail to join the bike path on the new bridge, crossing to Treasure Island. The park site is also the location where the east bay's historic Key System trolley line met the San Francisco ferries to cross the bay. Interpretive features are envisioned to commemorate this transportation node, including the history of the old and new Bay Bridges.

back to waterfront access map
More Information

Visit the Gateway Park web site

Press:

Big ideas sought for Oakland Bay Bridge park March 1, 2010, San Francisco Chronicle

Status
Land has been acquired from the Oakland Army Base through the National Park Service and Bay Conservation and Development Commission. The park is in early planning stages, with completion anticipated in time for the Bay Bridge inauguration.
Planning is being organized by the Gateway Park Working Group, a consortium of nine agencies working together. Participating agencies include the Bay Area Toll Authority (BATA), Caltrans, Bay Conservation and Development Commission (BCDC), California Transportation Commission (CTC), East Bay Regional Park District (EBRPD), City of Oakland, Port of Oakland, East Bay Municipal Utility District (EBMUD) and Association of Bay Area Governments' (ABAG's) Bay Trail Project.
The first Gateway Park public workshop was held February 25, 2010, and was devoted to public information and input about the park concept. A second session was held June 2, 2010. The Project Concept Report was completed in 2012. Design refinement is continuing and public scoping workshops are planned for 2013. Workshop details are available at the Gateway Park web site.
Funding
East Bay Regional Park District Measure WW bond funds: $5.4 million, additional funding being sought through other sources, including $1.1 million from the Coastal Conservancy's BCDC mitigation account.
Location & Sky View
Internet Explorer users: Do not click [+] to zoom in due to recent bug in Google Maps.
Drag, zoom:[+][-], switch from Satellite to Map or Earth view, explore...
Click the

marker for driving directions.

back to waterfront access map