Lakeside Park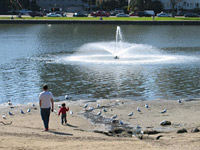 This long-established 75-acre park surrounds Lake Merritt in Oakland. It offers a wide range of amenities, including gardens, a bandstand, a boating center and sailboat house, a lawn bowling center, a wildlife sanctuary and nature center, pedestrian and bike paths. A City of Oakland park.

back
More Information

Visit the City of Oakland Parks & Recreation Department Description of Lakeside Park.
Status

Complete and open. [100%]
Funding
Development. The park has been funded from a range of public sources over many decades.
Maintenance. The park is maintained by the City of Oakland with funds provided by the Landscaping and Lighting Assessment District.
Improvements. Extensive improvements to Lakeside Park have been funded by Oakland's Measure DD Bond, passed by the citizens in 2002.
Park Reservations
Contact Oakland Parks and Recreation for reservations at (510) 238-3187. Waterfront Action cannot make reservations for you.
Location & Sky View
Drag, zoom:[+][-], switch from Satellite to Map or Earth view, explore...
Click the

marker for driving directions.

back