Marina Cove Waterfront Park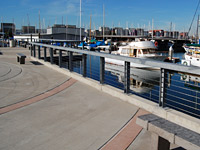 This small park is easily overlooked because of its secluded Alameda location, but it is worth seeking out for its sense of privacy and appealing features. The park wraps around portions of Fortman and Grand Marinas, offering paths, benches, views of boats and waterfowl, a play structure, and a an open lawn.

back to waterfront access map
More Information

Visit our detailed page on Marina Cove Waterfront Park for additional pictures and descriptions of park facilities.
Status

Complete [100%] and open to the public.
Funding
The park is operated and maintained by the City of Alameda.
Location & Sky View
Internet Explorer users: Do not click [+] to zoom in due to recent bug in Google Maps.
Drag, zoom:[+][-], switch from Satellite to Map or Earth view, explore...
Click the

marker for driving directions.

back to waterfront access map