Martin Luther King Regional Shoreline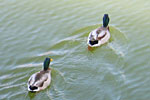 This 741-acre park is leased from the Port of Oakland by the East Bay Regional Park District, which operates the park as a protected marshland with a focus on nature. Park activities include picnicking, bird watching, fishing, hiking, biking, and non-motorized boating. Save the Bay operates one of its native plant nurseries onsite.

back to waterfront access map
More Information


East Bay Regional Parks District's page on the Martin Luther King Shoreline describes park features, activities and trails.

Damon Marsh Walk, a tour from Oakland Museum's Guide to East Bay Creeks
Status

Complete and open. [100%]
East Bay Regional Parks is developing a new unit at the northeast end of the park near Tidewater Avenue in Oakland. This new unit will include the Tidewater Aquatic Center.
Funding
East Bay Regional Parks District.
Shoreline Center
The Shoreline Center is an indoor/outdoor facility that can be rented for corporate events, weddings, parties, etc. For more information call at (888) 327-2757.
Location & Sky View
Drag, zoom:[+][-], switch from Satellite to Map or Earth view, explore...
Click the

marker for driving directions.

back to waterfront access map