Radio Beach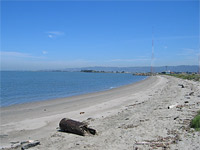 Radio Beach is an undeveloped stretch of shoreline stretching along the north side of the Bay Bridge approach from Oakland. The property is owned by the Port of Oakland and takes its name from the nearby radio transmission towers.

back to waterfront access map
More Information

Radio Beach photos and driving directions
Status
Open but unimproved.
Location & Sky View
Drag, zoom:[+][-], switch from Satellite to Map or Earth view, explore...
Click the

marker for driving directions.

back to waterfront access map