Shoreline Park, Bay Farm Island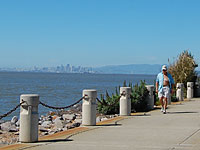 Shoreline Park is a slender greenbelt that runs along the northern and western perimeter of Bay Farm Island. Several developed mini-parks are interspersed along the shore, and the Bay Trail runs through most of the park's length.

back to waterfront access map
More Information

Visit our detailed page on Bay Farm Shoreline Park for additional pictures and descriptions of park facilities.
Status

Complete and open to the public.
Location & Sky View
Internet Explorer users: Do not click [+] to zoom in due to recent bug in Google Maps.
Drag, zoom:[+][-], switch from Satellite to Map or Earth view, explore...
Click the

marker for driving directions.

back to waterfront access map