Shoreline Park, Estuary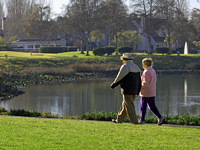 This short parkway strip extends along the waterfront just off Marina Village Parkway in Alameda, opposite the mouth of the Lake Merritt Channel. A section of the Bay Trail runs along the water and offers great views of the estuary, opposite shore, and downtown Oakland. Linked by a Bay Trail segment, nearby to the east is a small waterfront greenway in front of Wind River Systems.

back to waterfront access map
More Information

Visit our detailed page on Shoreline Park for additional pictures and descriptions of park facilities.
Status

Complete [100%] and open to the public.
Funding
The park land is owned by the City of Alameda, but the park is not operated by Alameda Recreation and Parks District.
Location & Sky View
Internet Explorer users: Do not click [+] to zoom in due to recent bug in Google Maps.
Drag, zoom:[+][-], switch from Satellite to Map or Earth view, explore...
Follow the red Bay Trail segment east to the yellow marker at the Wind River greenway...
Click the

marker for driving directions.

back to waterfront access map