Jack London Square
A Commercial Mixed-Use Development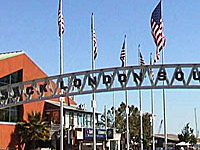 Public Access: Jack London Square offers great public access to the waterfront and fifteen square blocks of commercial and recreational activities, including opportunities for dining and shopping, strolling, ferry rides, and special events such as the weekly Sunday Farmers Market, Crafts market, and the annual Holiday Tree Lighting Ceremony. President Roosevelt's official yacht, the USS Potomac, is moored at the Square and is open to the public.

The Jack London Square Development Project
is a mixed-use project comprised of office, retail, restaurant and hotel uses. It involves a range of new and renovated buildings. Ellis Partners, Transbay Holdings and Jack London Investors partnered as developers for the project. In March 2016, The project was sold to CIM Group.

back to waterfront access map
More Information

For events and opportunities now at the Square: Visit JackLondonsquare.com.


For more on the development, visit our page on the project.


For a community perspective with rich detail, visit the Jack London District Association.


For a tour and photos, visit the Bay Trail page on Jack London Square.
Status
The development project is in construction: Renovation of 66 Franklin is complete; a new office and retail building is in complete; and construction of the new building that will house a public market, restaurants, and offices is complete, though largely unoccupied. Due to terms of the development agreement with the City of Oakland, construction will be phased over a period of up to 15 years.
Location & Sky View
Internet Explorer users: Do not click [+] to zoom in due to recent bug in Google Maps.
Drag, zoom:[+][-], switch from Satellite to Map or Earth view, explore...
Click the purple buildings for site location and design information...

View Larger Map On the larger map, right-click anywhere for driving directions.

back to waterfront access map