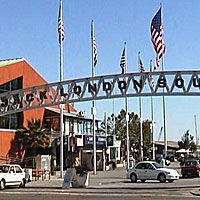 Jack London Square has been changing. In December 2001 the Port of Oakland sold four of the buildings in the square to Jack London Square Partners (Ellis Partners and James Falaschi) at a price of $17.2 million. The transaction included 66 year leases for the land on which the four buildings sit and the right to develop a nearby waterfront complex of offices, restaurants and shops.
The Plan

The plans include enhancement of the Green adjacent to the current Ferry stop on Clay Street (the West Green), removal of parking along that shore, and installation of a cafe/restaurant with viewing areas of the Estuary. The project has removed the fascia from 66 Franklin Street (the old Tribune offices) and restore its historic underpinnings. The Jack London Cabin and Heinhold's remain. The major addition is the Jack London Market at 145,000 square feet. This is located behind Heinhold's and extended down towards the Estuary. There will be an addition of an East Green in front of the Harvest Hall, and also an addition of a Celebration Plaza in the Webster corridor south of Embarcadero.
Status
Several ownership changes have taken place:
March 2016. The Oakland Board of Port Commissioners has approved the assignment of several long term leases at Jack London Square to CIM Group, an urban developer with a substantial footprint in Oakland. This action formalized the sale of the project and related entitlements from its prior owners, a consortium consisting of Ellis Partners, Transbay Holdings, and DivcoWest to CIM Group.
November 2010. DivcoWest assumed ownership of 98.5% of the project, while Ellis Partners retained 1.5% and the role of master developer.
The project development is ongoing though slowed by the post-2008 recession. Due to terms of the development agreement with the City of Oakland, construction will be phased over a period of up to 15 years.
The Oakland City/Port Liaison Committee received a July 1, 2010 update on the status of the Jack London project implementation. The core content of the report is available in this large (15mb) presentation file.

Project Status Meter
Here is Waterfront Action's estimate of progress on the project: