East 18th St. Pier Restoration
A Measure DD Project



Project Description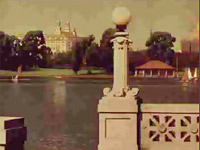 This project restored the East 18th Street Pier, part of City of Oakland Landmark and National Historic Landmark District. Major reconstruction was required because the engineering assessment determined that the piers which extend down into in the Lake bottom were failing and the steps that originally descended to the water had entirely collapsed. The existing rails and columns on the top of the deck were salvaged and reused. The following original historic architectural elements on the Pier were replicated and installed on the structure:
• Decorative lights, mounted on the four columns on the west side of the Pier.
• Stairs on the west side of the Pier which descend to the water's edge.
• A 7-foot high wall on the east side of the pier.


back
More Information

View the City of Oakland 1/29/2014 Project Report, with description, images, plans, funding detail, and status.


Visit the City of Oakland 9/19/2007 Project description.


Historic photograph of the 18th St. Pier

Visit the City of Oakland Lake Merritt Master Plan page
Status
Funding
Development. Measure DD bonds: $1.6 million.
Proposition 12 State grant: $300,000
Maintenance. The project will be maintained the City of Oakland with funds provided by the Landscaping and Lighting Assessment District.
Location & Sky View
Drag, zoom:[+][-], switch from Satellite to Map or Earth view, explore...
Click the

marker for driving directions.