Lake Merritt Channel Improvements
A Measure DD Project



Project Description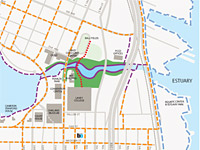 The project aims to establish the connection, by foot and boat, between Lake Merritt and the Estuary along the Lake Merritt Channel. Three sub-projects are designed to fulfill this goal:
7th Street: Install a by-pass channel to allow boats and large fish around 7th Street Flood Control pump station and to improve pedestrian/bike access. Upgrade 7th Street Flood Control pump station.
10th Street: Construct new 10th Street Bridge. Provide pedestrian and bicycle trails to pass beneath new bridge, smoothly connecting the 12th Street area with the Channel Park to the west.
Channel Parkway. Improve the park along the Lake Merritt Channel, particularly the area closer to the Estuary. Goals include improvement of existing deteriorated paths, creating new path connections where possible, restoring wetland areas, and other park improvements.

back
More Information

View the City of Oakland 1/29/2014 Project Report, with description, images, plans, funding detail, and status.


Visit the City of Oakland Lake Merritt Channel Projects web page.
Status
10th St.
7th St.
Channel
Parkway

Design

Bid

on hold

Construction
Funding
Development. $22 million estimated project cost
Measure DD bonds
State of California Natural Resource Agency grant: $2 million
California Coastal Conservancy & Wildlife Preservation Board grant: $1.8 million
East Bay Municipal Utility District grant: $1 million
Maintenance. The project will be maintained the City of Oakland with funds provided by the Landscaping and Lighting Assessment District.
Location & Sky View
Internet Explorer users: Do not click [+] to zoom in due to recent bug in Google Maps.
Drag, zoom:[+][-], switch from Satellite to Map or Earth view, explore...
Click the

marker for driving directions.

back