Oak to Ninth Area Parks
in Development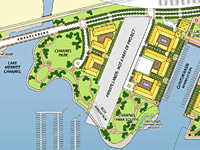 The City of Oakland Estuary Policy Plan calls for three major parks on Port of Oakland land near the mouth of the Lake Merritt channel, and Measure DD included partial funding for acquisition and development of these parks:


Estuary Park


Channel Park (AKA Meadow Park)


9th Ave Terminal Park

Estuary Park currently exists and is open to the public, though the park is not in the enhanced form planned by Measure DD. Neither of the other two parks exists.
Plans call for Bay Trail connections along the shoreline of this region.

back to waterfront access map
Status
The Port of Oakland is now proposing to sell the land that incorporates this park space to a private developer for the Oak to Ninth commercial mixed-used project. The Oak to Ninth plans include park area generally similar to those originally planned, though smaller. That project has completed the permissions and planning stages. It has been the subject of a lawsuit and a court order finding the project EIR to be deficient. As a consequence of the court order, previous governmental were revoked and the project was delayed
When construction proceeds, the project and its parks will be built out over the next 15 years under the terms of a development agreement between the developer and the City of Oakland.
Location & Sky View
For driving directions, click the

marker below.
Drag, zoom:[+][-], switch from Satellite to Map or Earth view, explore...

View Larger Map On the larger map, right-click the

marker for driving directions.

back