Tidewater Boating Center / Martin Luther King Shoreline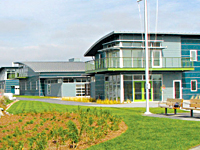 The Tidewater area of the Martin Luther King, Jr. Regional Shoreline is the site of the Tidewater Boating Center which includes a boathouse and programs in competitive rowing, sea kayaking and canoeing, classes in boating and water safety, and boat rentals. Outreach to local youth will be an important element of the programs.
The Tidewater Boating Center facilities include a East Bay Regional Parks meeting room, training area, security residence, public dock, and storage for various types of boats. In addition, one building serves as the new home of the Oakland Strokes rowing team. The Boating Center location is shown below, just to the left of the green developed park areas.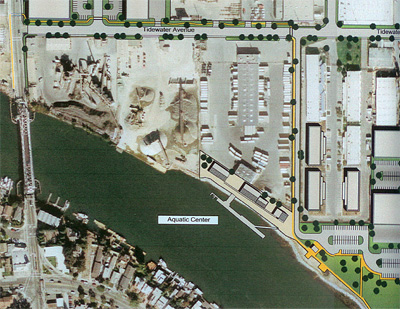 back to waterfront access map
More Information

East Bay Regional Park District's description of Tidewater Boating Center.
Status


Complete and open. [100%]
The facilities were dedicated in a ceremony March 5, 2011.
Funding
By East Bay Regional Park District, AA Park Bonds and California Parks 2000 Bonds.
Location & Sky View
Internet Explorer users: Do not click [+] to zoom in due to recent bug in Google Maps.
Drag, zoom:[+][-], switch from Satellite to Map or Earth view, explore...
Follow the red Bay Trail segment south-east to Arrowhead Marsh.
Click the

marker for driving directions.

back to waterfront access map