Horace Carpentier Dinner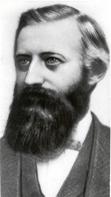 For several years, Waterfront Action and the Jack London Aquatic Center proudly presented the Horace Carpentier Dinner, a celebration of the past, the present, and the future of the Oakland-Alameda Estuary, recognizing Horace Carpentier as the man who founded the town of Oakland and became its first mayor. Carpentier, described as a "scoundrel", leased the entire Oakland waterfront for a payment of $5.00, three wharves and one schoolhouse. As a condition of the lease, one of the wharves had to be long enough to reach the ship's channel.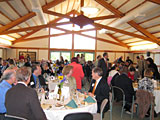 More than 175 members of the community have attended each previous dinner and enthusiastically joined in "hissing" Horace, played faithfully by David Nicolai, Executive Director of the Pardee Home Museum. Adding to historical context, Jack London has been played by Woody Minor.
In There, There, Gary Turchin of the Monclarion provides his commentary on the events and attendees of the first Horace dinner.