Time Warp Acorn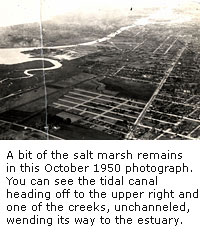 I'm talking about three lifetimes ago, just 200 years back. This was a land of dark oak forests, and salt marshes full of ducks and fish, and the villages of the native Ohlone people. The willow groves and creeks were loud with bird songs; salamanders crawled in the moist underbrush.

We might not always notice it, but much of this still survives, and more could come back. The salty tides still weave around the low, sandy hills we call Oakland and Alameda. You might find one of those grand oaks in the park near your home. The other day I saw a Blue Heron eating from a KFC garbage can, right where the marsh used to be.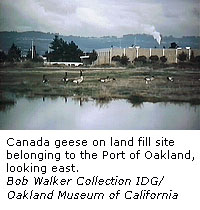 The Oakland shoreline will look completely different
100 years from now. It is the visions of people today
that will decide that future. What would you like to see?

Robin Grossinger
San Francisco Estuary Institute

"Walk Along the Water"
© Oakland Museum of California, used with permission.




Explore this Topic:
2009 photograph the above land fill site - Waterfront Action




back to history map