Jack London Aquatic Center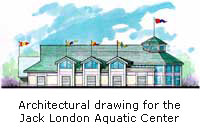 Oakland has two outstanding sites for aquatic sports like sailboarding, small-boat sailing, kayaking, and rowing: Lake Merritt and the Oakland Estuary.

Think of the middle Estuary as recreational open space. What is needed is a "trail-head," to create access to that open space.

One proposal is to create a multi-use public aquatic center at Oakland's Estuary Park, where Lake Merritt Channel enters the Estuary. The five boat bays proposed for the ground flood would house a variety of aquatic programs, serving all of the citizens of Oakland. The upper floor would provide classrooms and other public facilities.

The Jack London Aquatic Center has been proposed by the Oakland Office of Parks, Recreation and Cultural affairs, and the non-profit Jack London Aquatic Center, Inc.

Robert Kidd
Jack London Aquatic Center, Inc.

"Walk Along the Water"
© Oakland Museum of California, used with permission.



Update: The Oakland City Council voted in 1997 to underwrite construction of a boathouse in Estuary Park and to engage the non-profit Jack London Aquatic Center Inc. to design and build the boathouse. Construction was completed in October 2000, and the boathouse is now operated by the JLAC. - Robert Kidd, Jack London Aquatic Center, Inc., 2009

back to history map