West Oakland and the Waterfront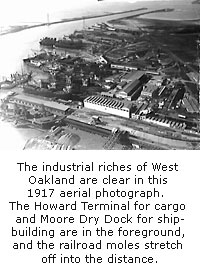 The economic impact of the waterfront is clear to see in West Oakland. Beginning in the 1860s with the Central Pacific railroad maintenance and ferry building yards, West Oakland's original marshes have been gradually turned into industrial sites and housing developments. Industries chose West Oakland, the site where "rail and water meet," including Albers Milling Co., Pacific Iron and Nail, Hickmont Cannery, Phoenix Ironworks and shipbuilding enterprises. The booms in wartime shipbuilding jobs brought thousands of newcomers to West Oakland. Many housing developments date to the war years, including Campbell Village, Peralta Villa, Bayview Villa, Cypress Village, "Willow Manor, and Magnolia Manor.
But the waterfront has changed. The West Oakland neighborhood was particularly hard hit by the massive layoffs from the shipyards after World War II. And the shift to containerized shipping has meant the loss of many longshore jobs as well as the relocation of industrial plants. We cannot undo the changes, but we must find solutions to the loss of jobs.

Deborah Cooper
Oakland Museum of California

"Walk Along the Water"
© Oakland Museum of California, used with permission.




back to history map