Captain Shorey, Master Mariner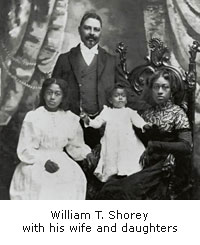 A ship's captain and important early leader of Oakland's African American community, William T. Shorey was born in 1859 in Barbados. After studying navigation in Boston, he embarked on a three-year voyage aboard a whaling ship where he was promoted to first officer.
Captain Shorey spent most of his career aboard ships in the Pacific whaling fleet, much of it in Alaskan waters. During a distinguished life at sea, he earned the coveted "Masters License," which permitted him to pilot ships of any size, anywhere in the world.
Captain Shorey settled on the waterfront in West Oakland in the 1880s. Shorey St. in Oakland was named for the Captain. Currently, an effort is being made to preserve his house which was in the path of the new Cypress Freeway. Contact the Oakland Heritage Alliance for further information.

Deborah Cooper
Oakland Museum of California

"Walk Along the Water"
© Oakland Museum of California, used with permission.



Update: Captain Shorey's house has been restored and is in use for leased housing. Bill Threlfall, Waterfront Action, 2009

Explore this Topic:
Captain Shorey short biography - African-American Registry

2009 photograph of restored Shorey House - Waterfront Action

back to history map