Albers Milling Co.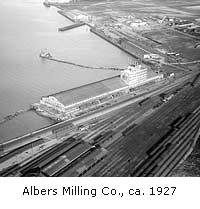 In 1915, Albers Milling Company leased a five-acre tract adjoining City Wharf No. 1 at the end of Seventh Street. The company was drawn to this site by the shipping advantages of the meeting of rail and water. Here, between 1916 and 1918, Albers erected an eight-story, reinforced-concrete mill building with an attached wood-frame warehouse. The mill was enlarged several times between 1934 and 1941, and substantially rebuilt following a fire in 1943. Albers produced cereal, flour, feed and other grains with a workforce, in the 1920s, of 400 men and women. The complex was acquired by the Port of Oakland in 1985 and razed three years later to make way for the Mitsui Container Terminal.

Woodruff Minor
Historian

"Walk Along the Water"
© Oakland Museum of California, used with permission.




Explore this Topic at Other Sites:
Image of Albers warehouse interior - Oakland History Room, Oakland Public Library


Image of Albers Mill ca. 1919 - United States Library of Congress's Prints and Photographs Division

back to history map