Philbrick Boat Works Preserves Tradition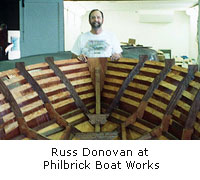 As you step through the door at Philbrick Boat Works, you smell the sawdust wood glue. Outside, the air is salty, and the train whistle evokes waterfront history.
The building began life as a produce warehouse. It has changed a bit, but you can still see the large sliding doors that open onto docks where fruit and vegetables were loaded off ships from South America.
Founded in 1934 by Oakland native Don Philbrick, Philbrick Boat Works has gained national fame for its sleek wooden power boats. Don, it is said, lived on Pepsi and cigarettes with a reputation for working late into the night. One wall in Don's shop was covered with pinup calendars. This was an all male shop where wives and girlfriends were only visible when models were needed for sales pictures for the boat catalogues.
In contrast, Russ Donovan, who began as Don's apprentice, tends to work early mornings in the shop. Historic photographs have replaced the pinups, and women are welcome. There are no longer signs forbidding customers from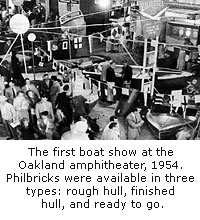 entering the workshop. A diverse group of people actually work on their boats here, learning more each day about the craft of boat building. One customer has been working on his own boats in the shop for the past 18 years. His current project is restoration of a 1933 Mullen-a rare specimen, perhaps because of its poor design, but beautiful to behold. Nearby in the shop is a 1961 ChrisCraft, a gift from father to son, symbolizing the tradition in boat building that has been handed down through the family.
As many as twenty wooden boat builders once practiced their trade along the Estuary, but the rising cost of exotic hardwood combined with the low cost of plastic and fiberglass, has put all but this one out of business. But Russ wants to preserve the knowledge and skill of the craft of wooden boat building. Not only does he help owners work on their own boats, but he trains youth in summer job programs. hoping to find special people with patience and a love of hard work and history to learn the trade and prevent these special skills from being lost. "Out of all the things I care about doing, I feel it is everything to keep this craft alive."
Kerry Salisbury
Lake Merritt Boating Center

"Walk Along the Water"
© Oakland Museum of California, used with permission.




back to history map