Middle Harbor Shoreline Park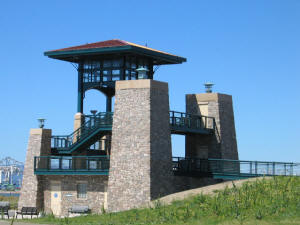 Middle Harbor Shoreline Park is a new 38-acre complex adjacent to the existing Port View Park. Located at the Middle Harbor Basin, the complex includes new facilities at Point Arnold and the Western Pacific Mole. Working together with the West Oakland community, the Port conceived and built the park. The park was built on the site of the former Oakland Naval Supply Depot and offers fascinating historical lessons about Oakland's key role in World War II Pacific support.
The park is owned and operated by the Port of Oakland.

back to waterfront access map
More Information

Waterfront Action's detailed page on Middle Harbor Shoreline Park and Port View Park describes park facilities and presents many pictures.

Port Contact: For information about Middle Harbor, including its environmental education programs, contact Ramona Dixon at (510) 627-1634 or email at rdixon@portoakland.com.
Status

Complete and open. [100%]
Funding
Development. The park was developed by the Port of Oakland as an innovative bi-product of the federally-funded Oakland Harbor Navigation Improvement Project, which deepened the Estuary ship channels.
Maintenance. The park is maintained by the Port of Oakland.
Park Reservations
The park is owned and operated by the Port of Oakland. The Port does not accept picnic reservations - picnic areas are available on a first-come basis. Waterfront Action cannot make reservations for you.
Location & Sky View
Internet Explorer users: Do not click [+] to zoom in due to recent bug in Google Maps.
Drag, zoom:[+][-], switch from Satellite to Map or Earth view, explore...
Click the

marker for driving directions.

back to waterfront access map