Port View Park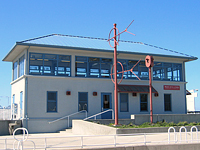 Port View Park is located at the extreme western end of Oakland's 7th Street, adjacent to the newer Middle Harbor Shoreline Park. Port View Park was extensively renovated after the 1989 earthquake and has been open since 1995. The location affords great views maritime operations at the Ben Nutter terminal and of the bay. The central portion of the park includes walkways, benches, picnic tables, a fishing platform and a children's play structure.
A special park feature is the recently reopened historical exhibit: "Room with a View", which is housed in the relocated historic train switching tower shown at right. The exhibit presents rich detail about the maritime and railroad history of the area, which was the western terminus of the transcontinental railroad. As of Spring 2011, the exhibit is open Monday - Friday 10AM - 3PM.
The park is owned and operated by the Port of Oakland.

back to waterfront access map
More Information

Map of Middle Harbor Shoreline Park and Port View Park

Waterfront Action's detailed page on Middle Harbor Shoreline Park includes a section on the Port View Park area and presents many pictures.

Port Contact: For information about Port View Park, including its environmental education programs, contact Ramona Dixon at (510) 627-1634 or email at rdixon@portoakland.com.
Status

Complete and open. [100%]
Funding
Development & Maintenance. The park was developed by the Port of Oakland and is maintained by the Port.
Park Reservations
The park is owned and operated by the Port of Oakland. The Port does not accept picnic reservations - picnic areas are available on a first-come basis. Waterfront Action cannot make reservations for you.
Location & Sky View
Internet Explorer users: Do not click [+] to zoom in due to recent bug in Google Maps.
Drag, zoom:[+][-], switch from Satellite to Map or Earth view, explore...
Click the

marker for driving directions.

View port_view in a larger map

back to waterfront access map