To kickoff 2005 as the first "Year of the Estuary", representatives from the participating agencies gathered February 2nd, Ground Hog Bay, at Estuary Park for festive kayaking. Kayakers were able to go under the Embarcadero Bridge as it was low tide that morning.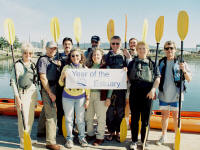 The eager kayakers received instruction from Keith Miller of the Jack London Aquatic Center Board and then boarded their kayaks for the trip.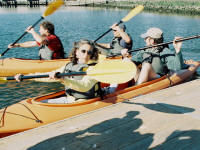 Oakland Oakland Councilmember Nancy Nadel and David Lewis, Executive Director of Save the Bay venture onto the estuary. Seated in the second kayak is Paul Kamen, member of the Berkeley Waterfront Commission and Alameda councilmember Frank Mataresse.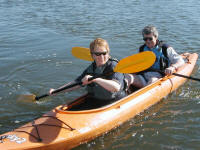 Alameda Mayor Beverly Johnson paddles with Frank Dobson, of Waterfront Action.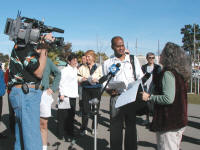 The Chronicle, Tribune, and Alameda Sun provided press coverage for the kickoff. Channel 7 ABC provided TV coverage on its 5 o'clock news, and KCBS provided radio coverage.
Hear KCBS coverage (600k .wav) of the Year of the Estuary kickoff event.
Read the Oakland Tribune article.